Experience The Disney Magic All Year Around

A Magical Dream Destination - Disneyland® Paris

Imagine a land where the wonderful world of Disney comes alive. Imagine a Disneyland® Park, where make believe is real and Walt Disney Studios® Park, where the magic of Disney meets the magic of cinema. Imagine a Disney® Village, where fun and entertainment stay open day and night. Seven Disney® Hotels, where sweet dreams come true in the very heart of the magic. Imagine you are there... in a resort as big as imagination itself. Disneyland® Paris is a holiday destination like no other. The Magic is Closer than you think.


Meteoric moments for every season

No matter the time of year, there's an extraordinary seasonal event ready to sweep you of your feet. Come and celebrate merry times, spooky goings-on and galactic legends as only Disney can do.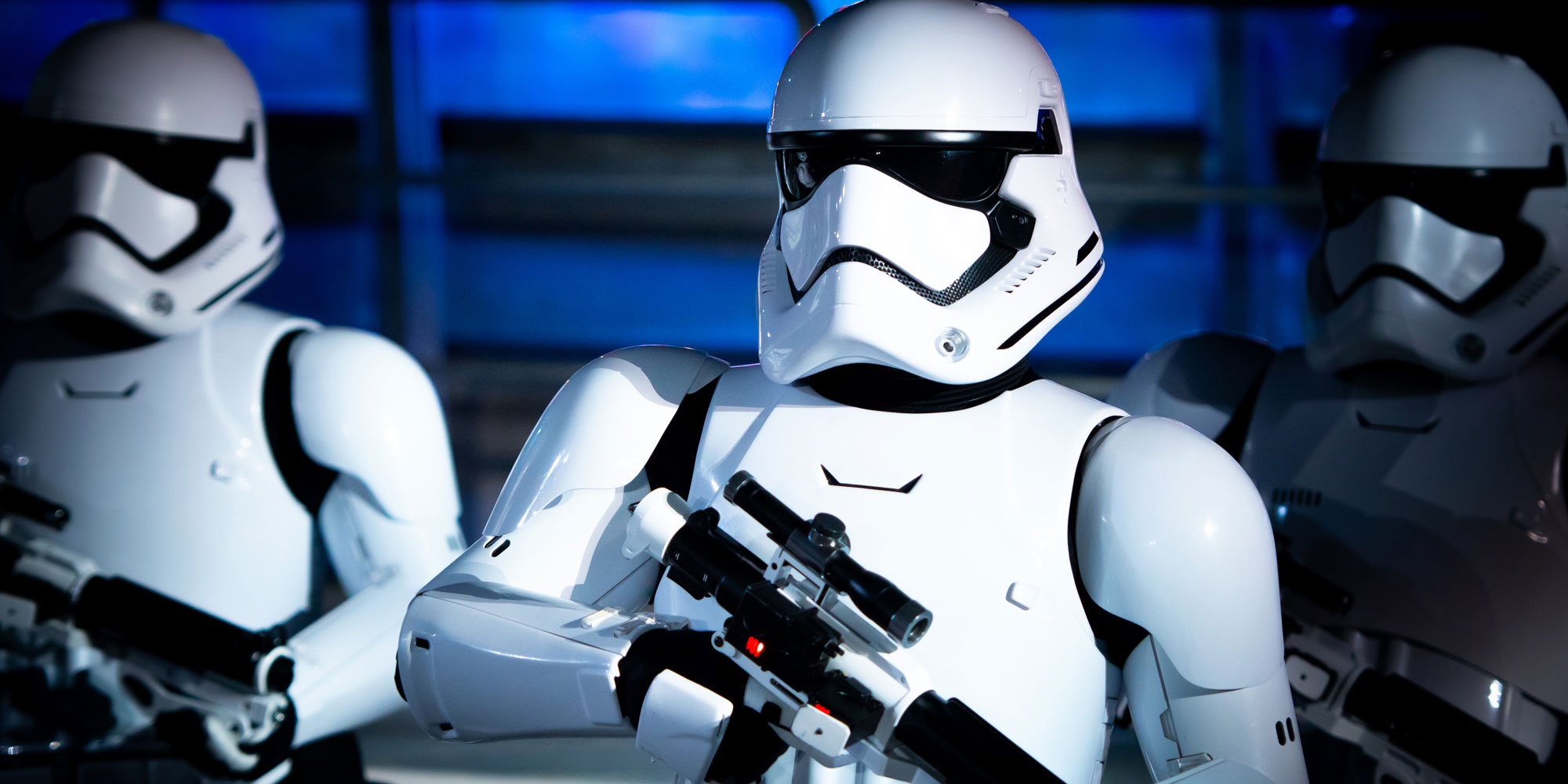 Star Wars™ Legends of the Force (Jan to March)
Prepare to feel the full power of Star Wars™, as stunning shows and attractions bring legendary galactic battles and characters to life like never before in Walt Disney Studios® Park.
• Feel the power of the spectacular Star Wars: A Galactic Celebration show
• NEW! Roar like a Wookiee when you Encounter Chewbacca
• NEW! Face the fury of a Darth Vader & stormtroopers Imperial March
• Behold a dazzling new display of legend in Star Wars: A Galaxy Far, Far Away show
• Witness the wicked wonder of an infamous First Order March
• Are you the Rebel the Stormtroopers Patrol is looking for?
• PLUS Dare you encounter the Darth Vader meet and greet? Experience an iconic battle in Star Wars Hyperspace Mountain, discover legendary worlds in Star Tours: The Adventures Continue attraction.
Festival of Pirates and Princesses (Mid jan to Mid March)
Fairy tale quest or swashbuckling voyage? The choice is yours! Greetings and ahoy there! Get your tiara and tricorne ready for the spectacular, interactive Disney Pirate or Princess: Make Your Choice, a Princess and Pirate-filled promenade sweeping you through Disneyland Park. If your duty is to defend the royalty of Disney Princesses, then sing and dance alongside the likes of Rapunzel, Snow White and Ariel. But if the Pirate's life for you, perfect your arrrr and sea leg swing with Jake, Peter Pan, Wendy and a rowdy crew of acrobatic rapscallions. Cutlass or crown? Cannonball or ball gown? The choice is yours!
• Learn to be a real rapscallion with legendary Pirate Captain Jack Sparrow
• Tiaras at the ready for Princess Promenade Parade
• Disney Pirates or Princesses: Make your Choice show on Central Plaza
• Hoist the Flag, Mateys Show in Adventureland
• Become a Princess or a Pirate with themed face painting
• Explore Adventure Isle and Pirates Beach with Captain Hooks Pirate Ship and Davy Jone's Locker
• Experience the peril on the high seas with the Pirates of the Caribbean attraction
• Meet your favourite Disney Princesses at the Princess Pavilion
• Visit fantasyland and the iconic Sleeping Beauty's Castle
• Ride a mine cart through the magical land of Snow White and discover how the 7 dwarfs helped her defeat the evil queen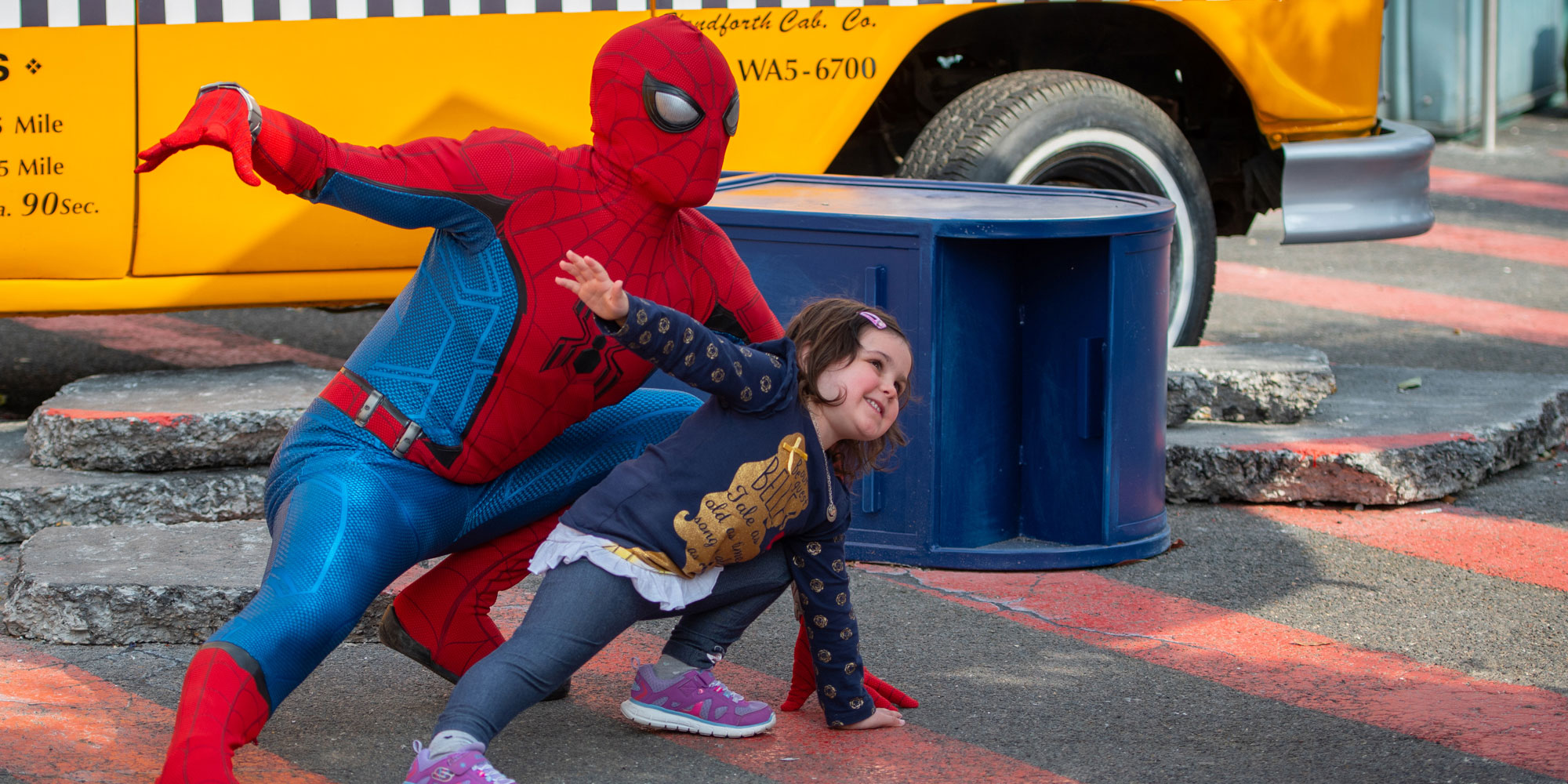 Marvel Season of Super Heroes (Late March to Mid June)
Feel the might of the most epic Marvel stories exploding to life through new eye-popping shows, attractions and encounters with the likes of Spider-Man, Iron Man, Captain America and more!
• Feel the power of the epic Marvel: Super Heroes United show
• See a show of the future in Stark Expo: Make Way for a Better Tomorrow
• Strut your super moves at the Guardians of the Galaxy Awesome Dance-Off
• Stand proud at Heroic Encounter: Captain America meet and greet
• Unleash your inner Super Hero with Heroic Face Painting
• Heroic Encounter: Spiderman meet and greet
• NEW! Arrival of Heroic Encounter: Captain Marvel meet and greet!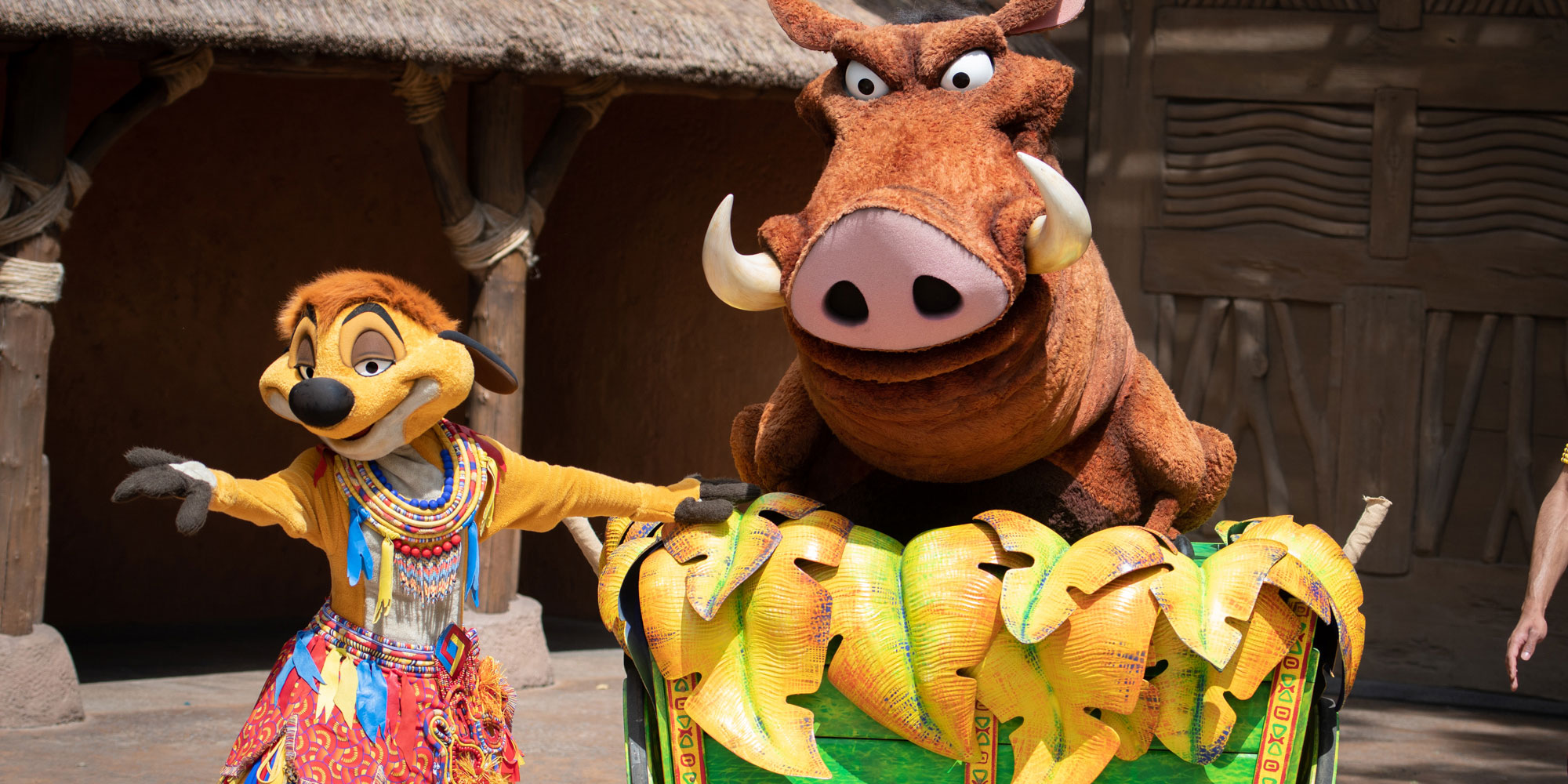 The Lion King & Jungle Festival (July to September)
This is your chance to 'oobee doo', shake a tail feather and feel the rhythm of a bouncing jungle habitat overgrown with fresh new shows and immersive experiences alongside a tribe of friends from The Lion King and The Jungle Book, such as Timon and Pumbaa, Baloo and King Louie.
• NEW! Roar along to The Lion King: Rhythms of the Pride Lands stage show
• NEW! Become the 'King of the Swingers' at The Jungle Book Jive musical show
• NEW! Bounce to the beat of a Djembe Joy Village
• NEW! Stomp to the hypnotic rhythm of Timon's "MataDance"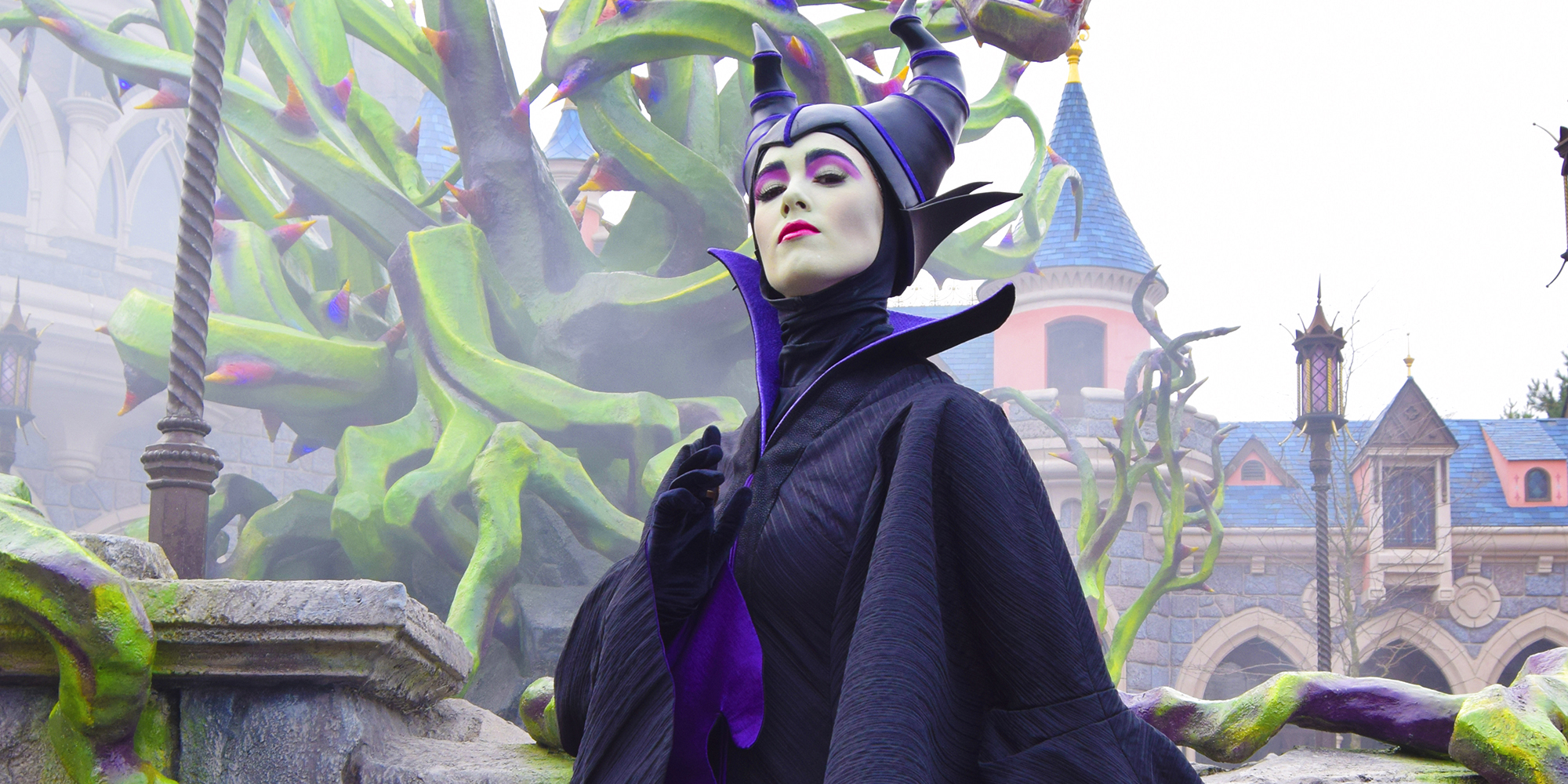 Disney's Halloween Festival (October)
The sweetest treat of them all. Discover a bushel of autumn antics and dazzling decorations, as Disneyland® Park becomes bewitched with hair-raising Halloween fun. Unleash your party monster amid a hullaballoo of colour
• Whoop and wave as tricky Mickey leads the Halloween Cavalcade
• Witness a spooky showcase of Disney Halloween villainy
• Sweet and Scary Disney Villain Encounters
• Wander through the Coco themed Halloween decorations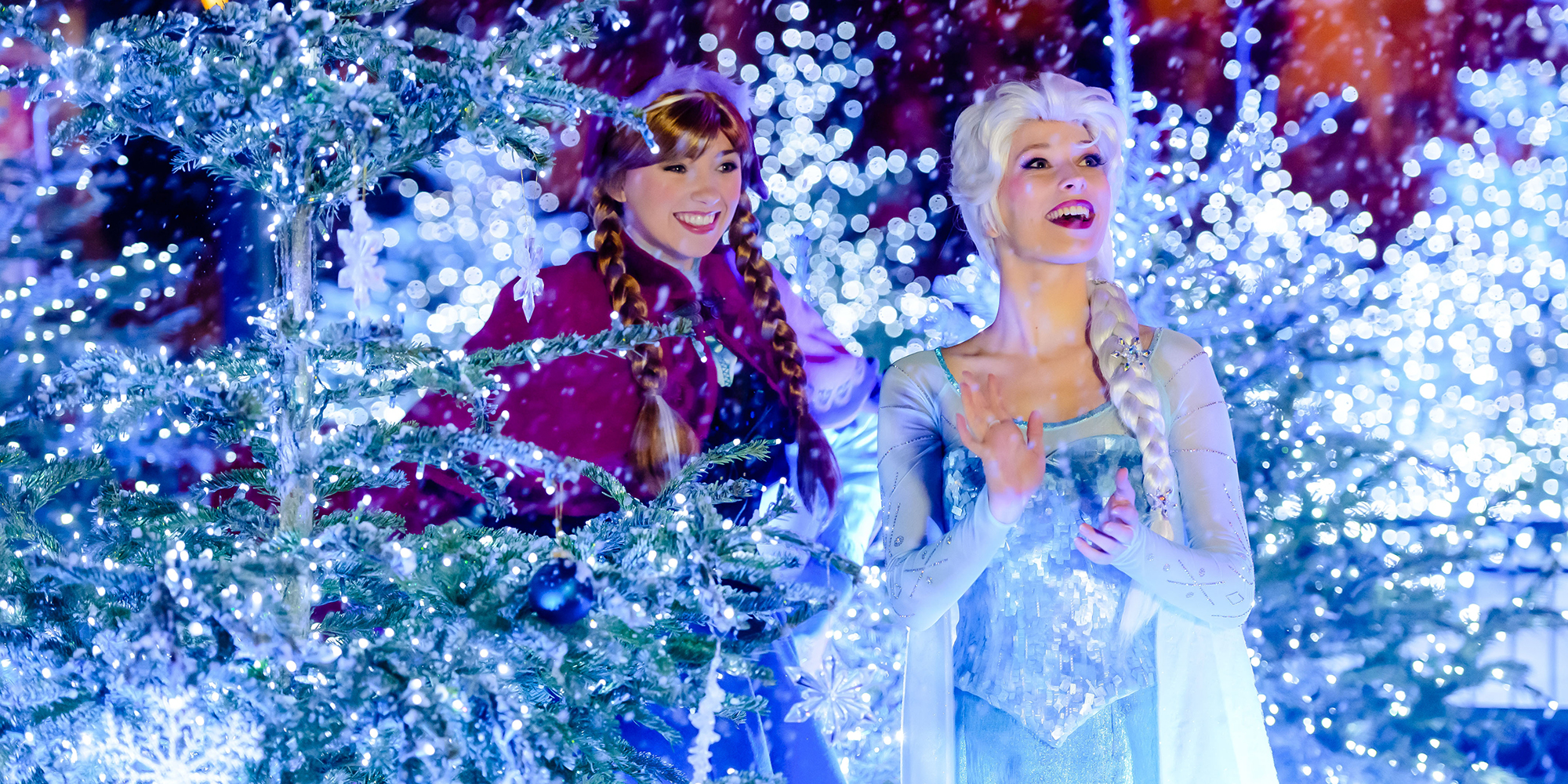 Disney's Enchanted Christmas (Mid November to Early January)
Christmas comes early to Disneyland® Paris! Unwrap Christmas early in both Disney® Parks, where a sleighful of merry magic and a flurry of festive surprises make this an occasion families and friends will never forget. • Disneyland Paris dazzles in its festive best.
• Disney's Christmas Parade
• Mickey's Magical Christmas Light
• Tap, Tap, Tap along to Mickey's Christmas Big Band
• Night-time show! Goofy's Incredible Christmas
• A Merry Stitchmas
• Very Merry Encounters with Santa* & Disney Characters
• Christmas at Disney Village: An unforgettable celebration!
• Let's Sing Christmas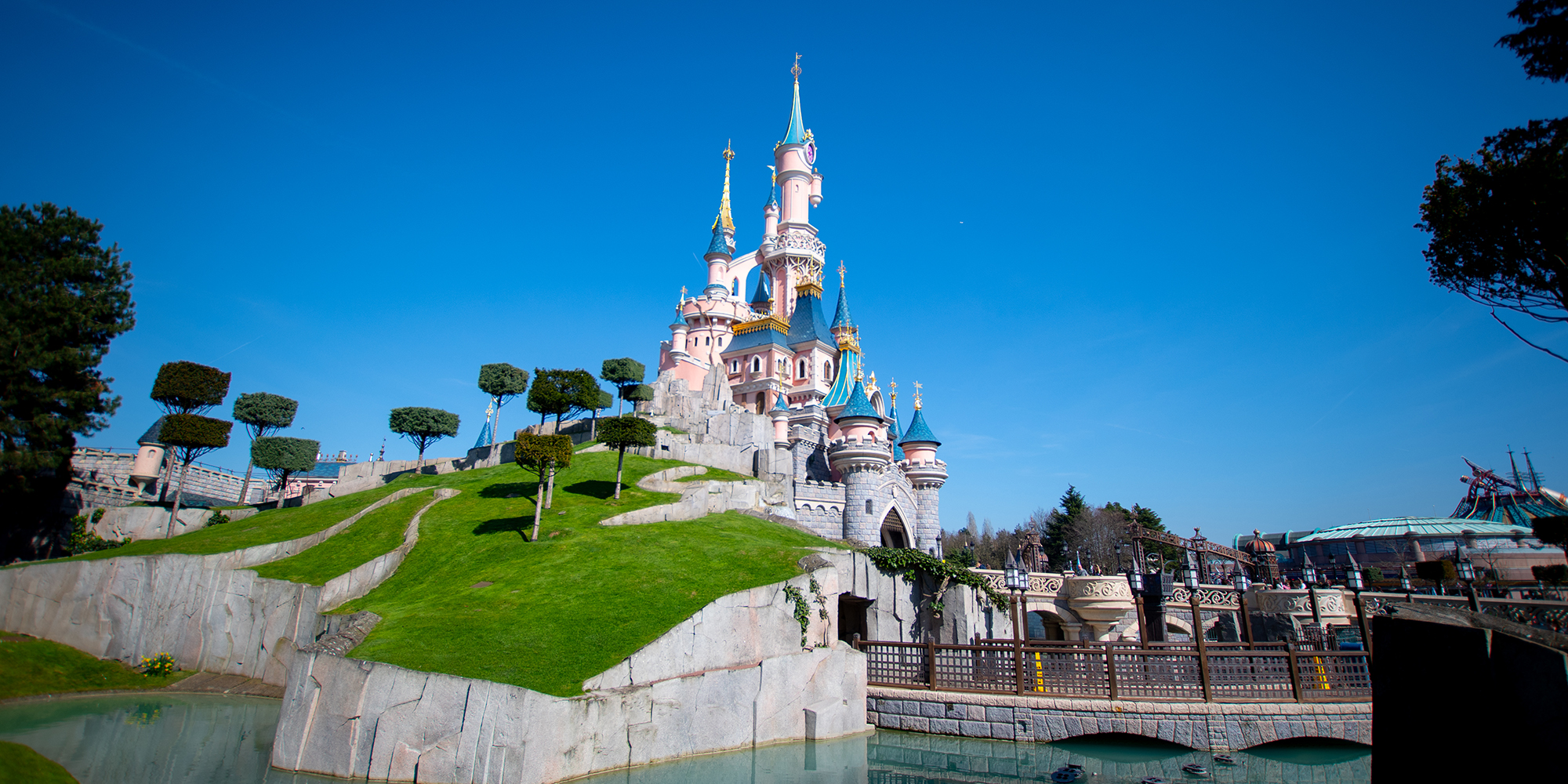 Disneyland® Park
This is a magical kingdom, where five Lands bring fairy tales and adventures to life like nowhere else. Discover sparkling shows, jaw-dropping attractions, a dazzling parade and unforgettable encounters with Disney Characters. It's a once-in-a-lifetime experience you'll remember happily ever after.


Choose Your Adventure
Disney stories magically come to life across five enchanting Lands bursting with action-packed attractions, stunning shows and a colourful parade. Visit Main Street, U.S.A.® for a whimsical wander through small town middle America, conquer the Wild West in Frontierland, feel the excitement of Adventureland, live classic fairy tales in Fantasyland, and see the future in Discoveryland.


A Place Made of Magic
Magic touches everything in Disneyland® Park - from colourful parades and an award-winning evening extravaganza to Disneylicious dining and special souvenir shopping.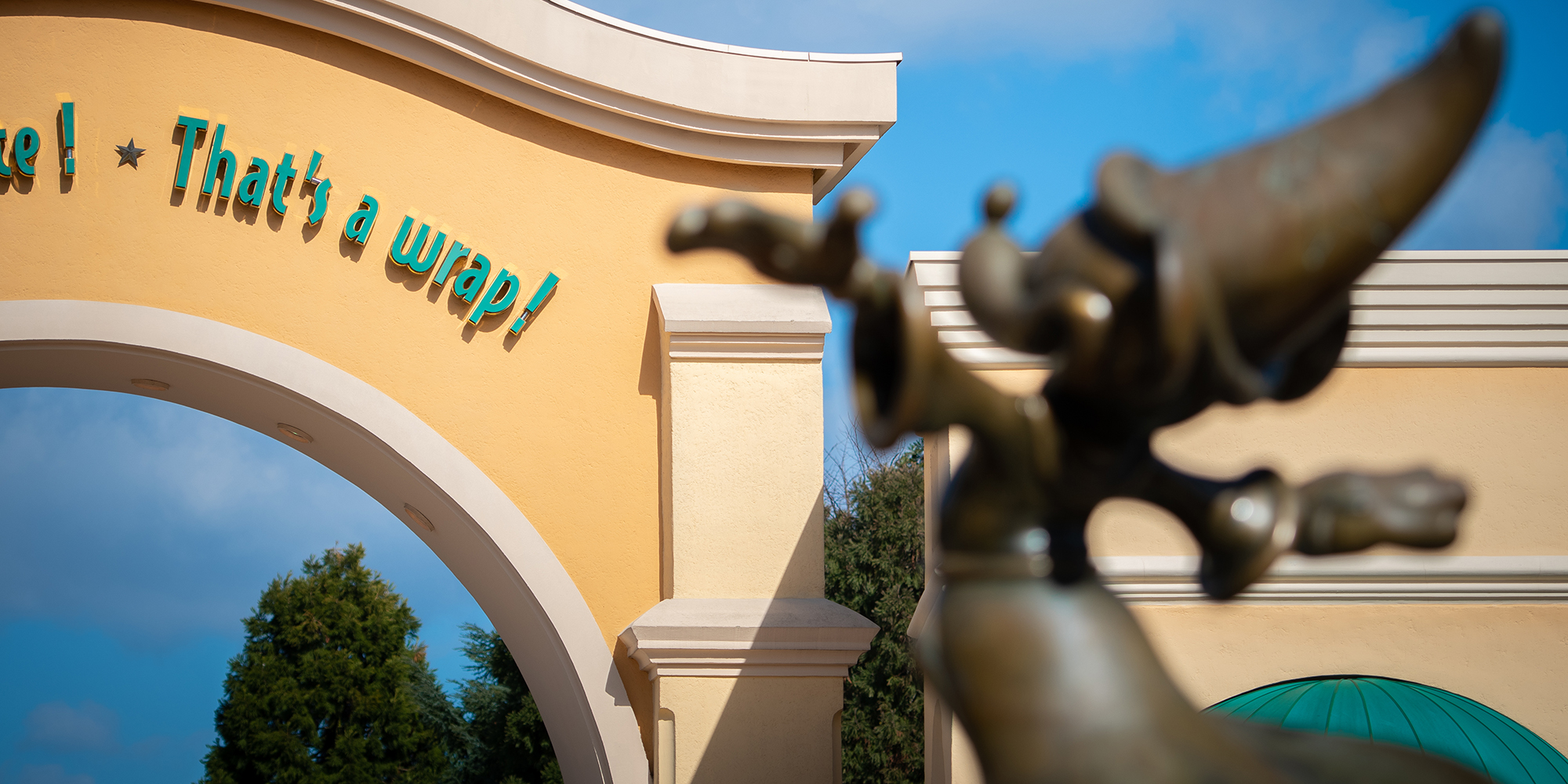 Walt Disney Studios® Park
Get ready for lights, camera and a whole lot of action! Slip behind the silver screen and bask in the spotlight, as blockbuster attractions, star-studded shows and memorable encounters add some movie magic to your family's story.
Be Part of The Movie Magic
Stars of all ages can experience the magic of Disney film in four production zones full of thrills. A classic entrance of a major film studio welcomes you at Front Lot. Production Courtyard is full of the wonders of cinema and television. Action, excitement and special effects wait for you in Backlot and Toon Studio is where toons animate to life.
Every moment is a magical movie moment
The movie magic fills every corner of Walt Disney Studios® Park, with blockbuster shows, A-list dining and souvenir shopping.
Unforgettable encounters with Disney Characters
Prepare to meet the much-loved Disney Characters for magical moments you and your little ones will cherish forever.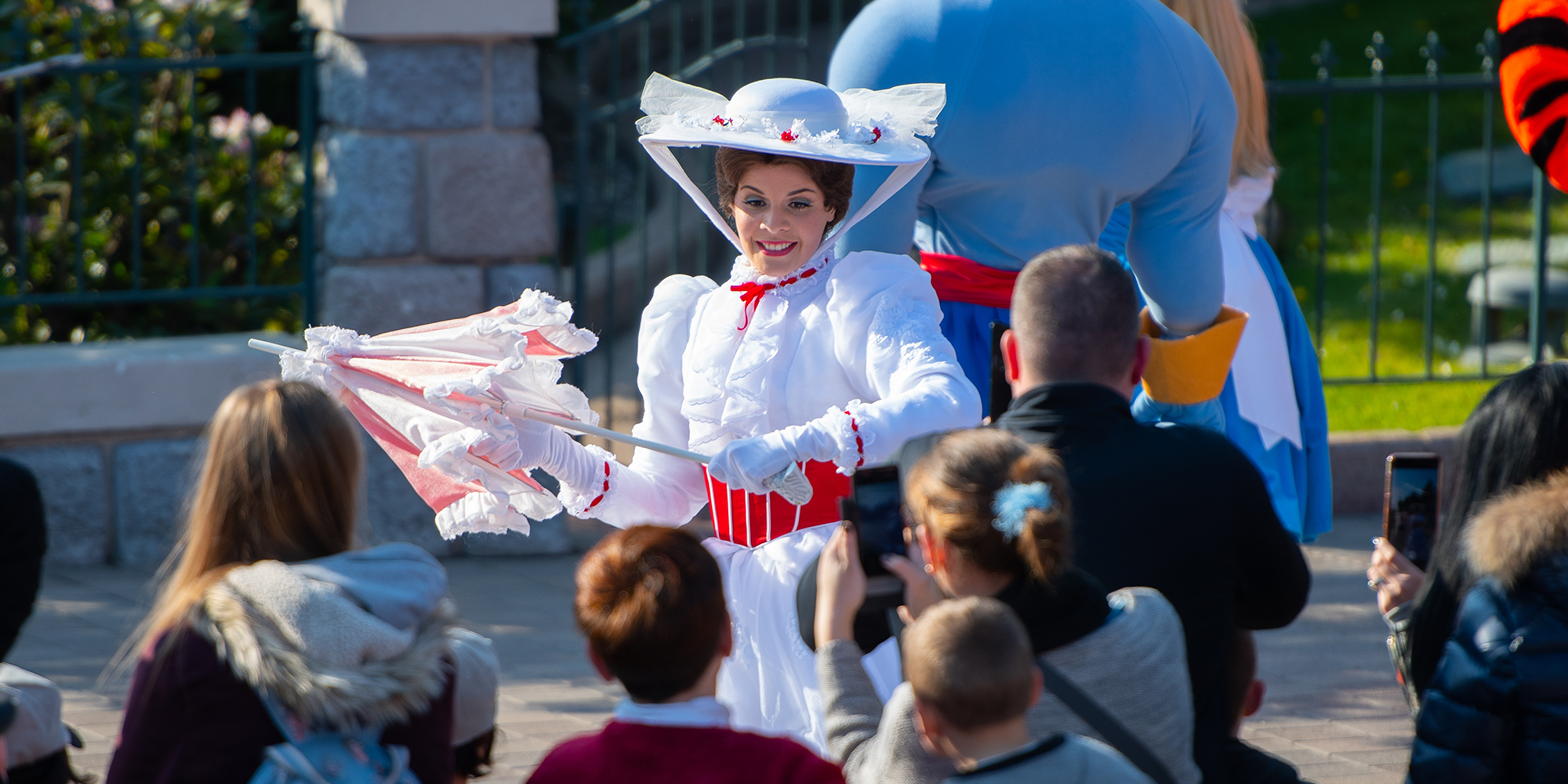 A Special Moment with a Disney Character is Never Far Away
Whether you're in a Disney® Park, Disney® Hotel or restaurant, there's always a chance you'll meet the beloved Disney Characters.
Make The Most of Your Visit - Hints and Tips
Extra Magic Hours
Make the most of your stay with Extra Magic Hours, as a Disney® Hotel guest you can wake up in the heart of the magic and make the short walk or shuttle ride to the Disney Parks where, with Extra Magic Time, you can enter before they even open to the general public with lots of rides and attractions open for you to enjoy with reduced queues and wait times.


FastPass®
This service helps you cut down on queuing times at some of the most popular attractions in the Disney® Parks by giving you a specific return time when you can enter via a special entrance.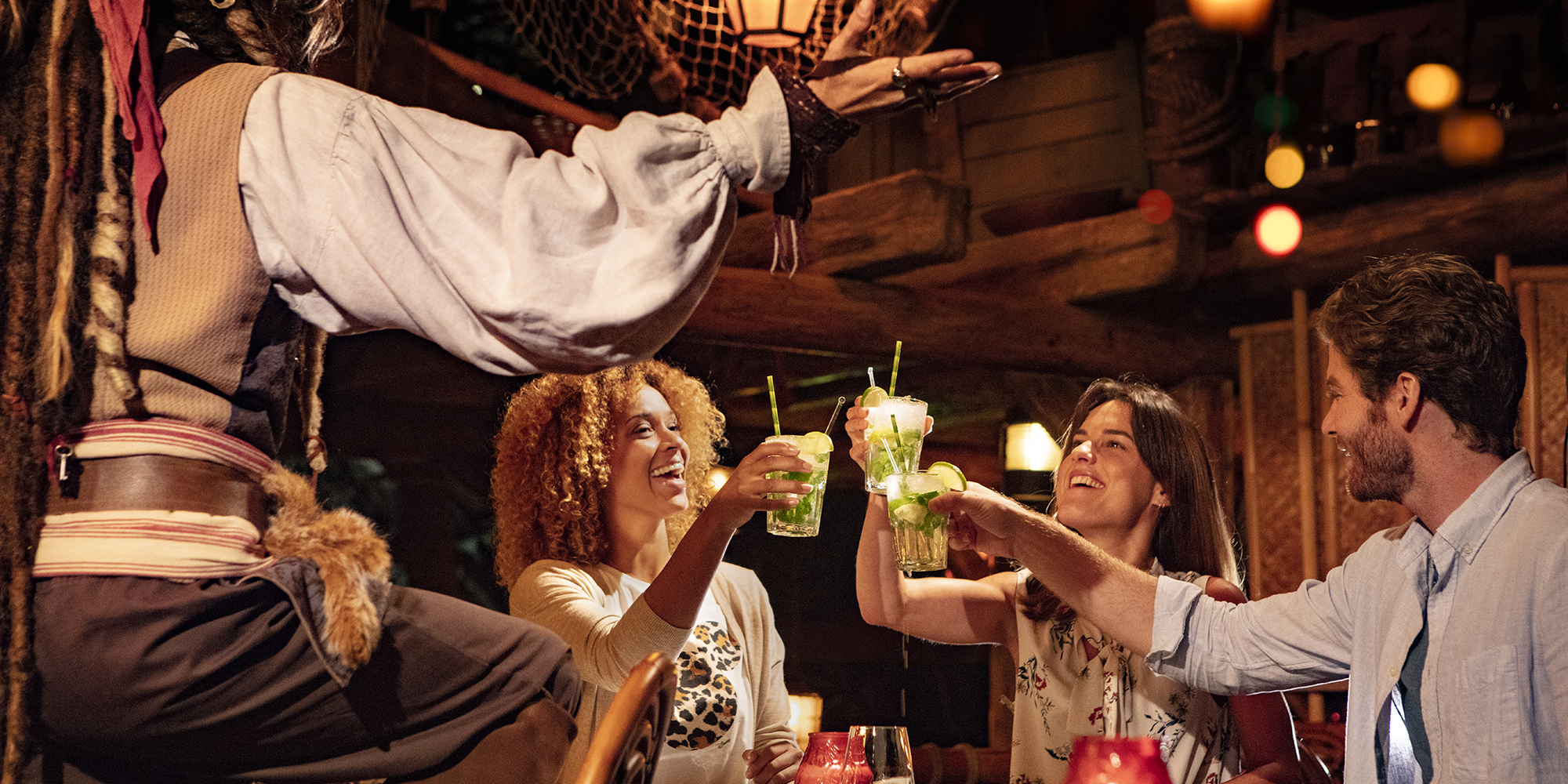 Single Rider
This free service allows you to reduce your queuing times in some attractions if you're willing to ride alone (separate from your party). Access is granted via a special Single Rider entrance.


Disneyland® Paris free mobile app
Download the official mobile app for iPhone® and Android™ to explore the interactive map and instantly access information about attractions, restaurants, shops, shows and parades, including opening times and most importantly LIVE queuing times.


Shopping Service
Shop 'til you drop until 3pm without having to carry a single bag. Disney will deliver your shopping to your hotel or Disney Village® - where it will be ready to pick up from 6pm.
Disney PhotoPass™+
Available to purchase from all Disney shops, collect and keep all the high-quality digital photos taken by Disney's professional photographers at selected Disney Character Encounter locations and at some of the most popular attractions. View, download and share your pictures via a dedicated website or with the Disneyland® Paris PhotoPass app. You can also have fun creating personalised objects using your photos on DisneyPhotoPass.eu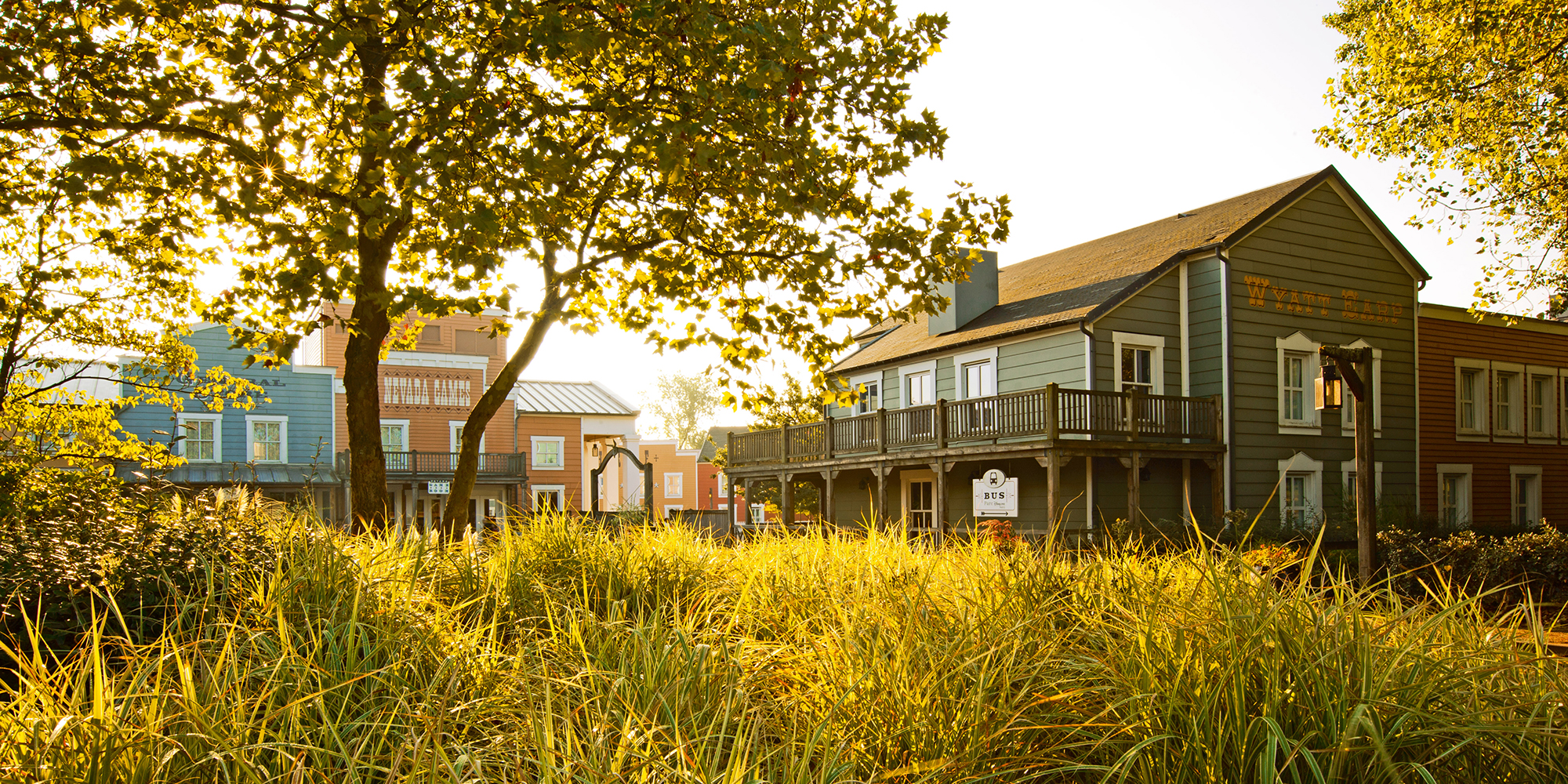 Disney® Hotels
Turn your Disney story into the happiest of fairy tales with a stay in a Disney® Hotel - where every detail immerses you in Disney magic.


Stay in a Disney Hotel and you unlock:
More Time in the Disney® Parks
Wake up in the heart of the magic and make the short walk or shuttle ride to the Disney Parks where, with Extra Magic Time, you can enter before they even open.


And The Magic Doesn't End There
Only in a Disney Hotel can you meet Disney Characters every morning. What's more, every Disney Hotel envelopes you in an iconic American and Disney theme, each one with its own magical story, and with a Meal Plan, Disneylicious dining awaits.


More Fun
Swimming pools, fitness rooms, spa, kids' corners and more make sure you're having fun even when you're not in the Disney Parks.


Sweet Dreams in the Heart of the Magic.
Tuck yourself in to a storybook world of seven Disney® Hotels, where dreams come true in the heart of Disneyland® Paris. There's the fairy-tale splendour of a Victorian Palace. The golden age of New York City in the 1920's and 30's. How about the great outdoors of America's Northwest? Or the New England coastline? There's Trapper country and the wild frontier. Even the golden desert of Santa Fe! So come, be a guest at Disney® Hotels. Where sweet dreams live… happily ever after!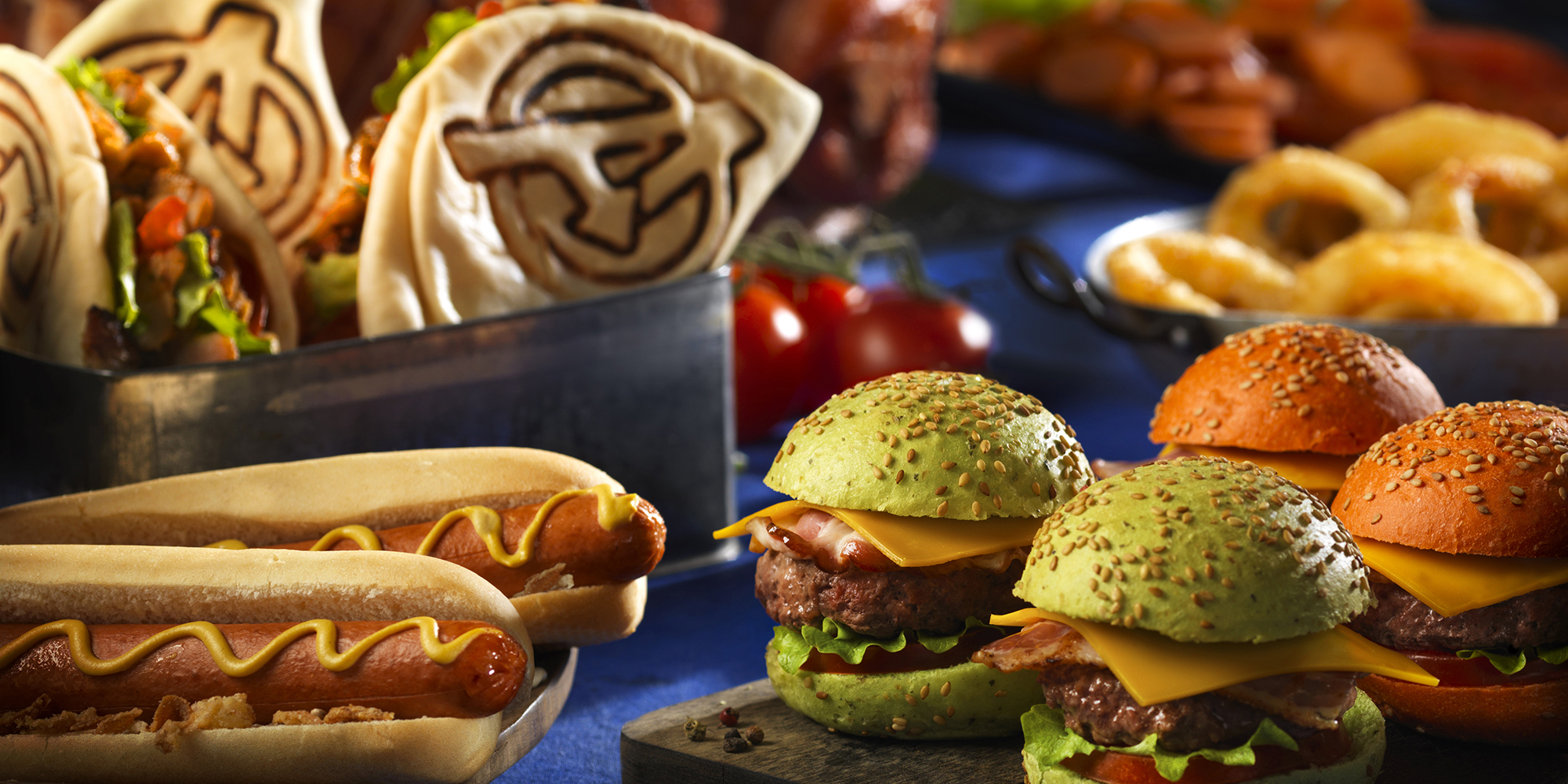 Dining at Disney
Throughout Disneyland® Paris, there's an excellent choice of themed restaurants, food carts and cafés, serving a selection of hot and cold food and beverages. Find the Meal Plan that's right for you, then choose from over 50 restaurants throughout the Disney® Parks, Disney® Hotels and at Disney Village® and make extra special memories with Character Dining, dinner shows and even special meals for Christmas and New Year.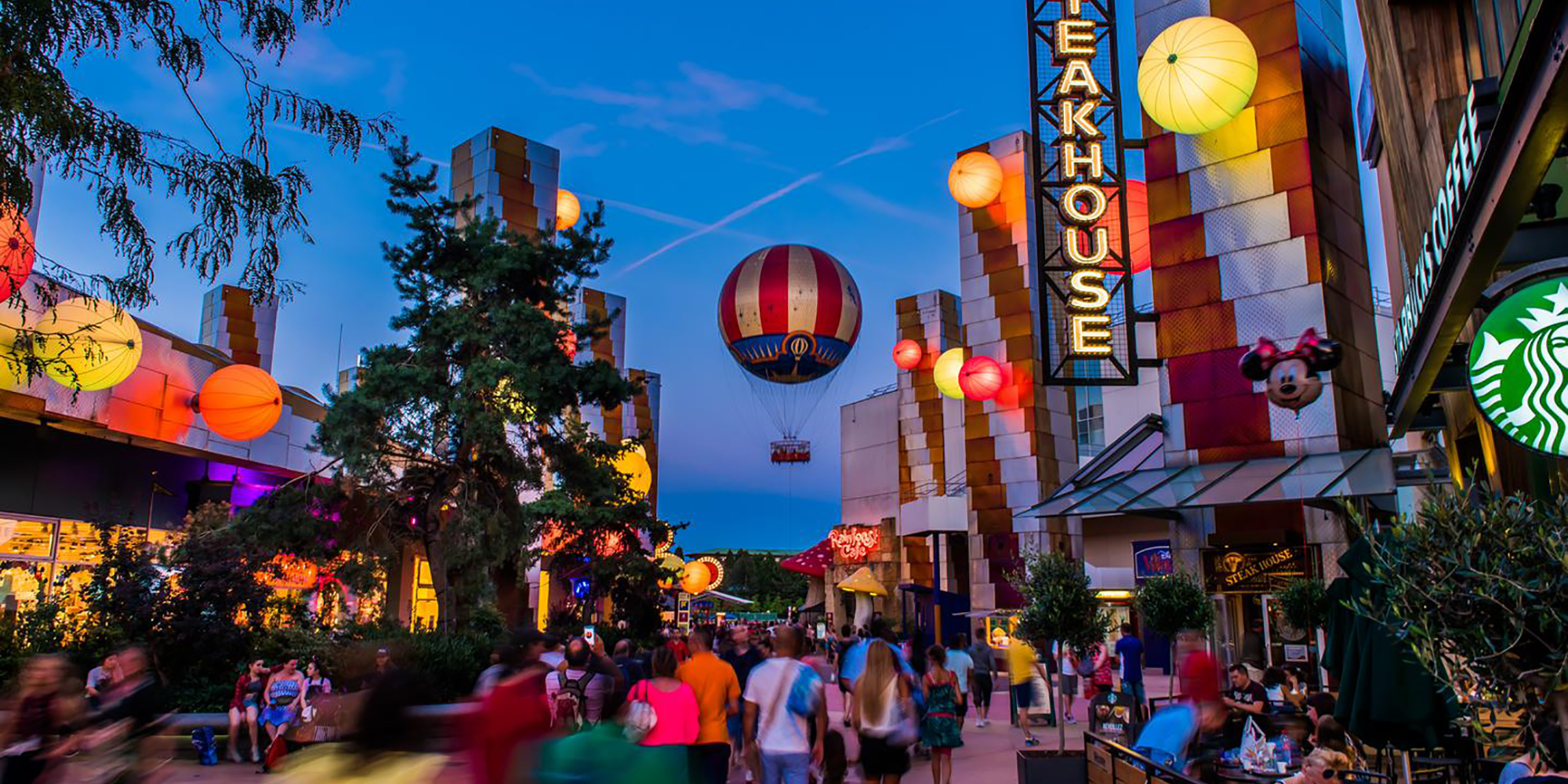 Disney® Village
Ideally situated between the Disneyland® Park, the Walt Disney Studios® Park and the Disney® Hotels, Disney® Village allows you to get a taste of America. Boutiques, bars, restaurants and the Buffalo Bills Wild West Dinner-Show let you travel from Florida to California, from Chicago to New York, from the Wild West to the Hollywood dream. Discover fun around the clock-and even up in the air in an entertainment district that's like no other. Starting at the Disney Park gates and going until late, there's something for the whole family with shopping, restaurants, dancing, shows, a cinema and more!